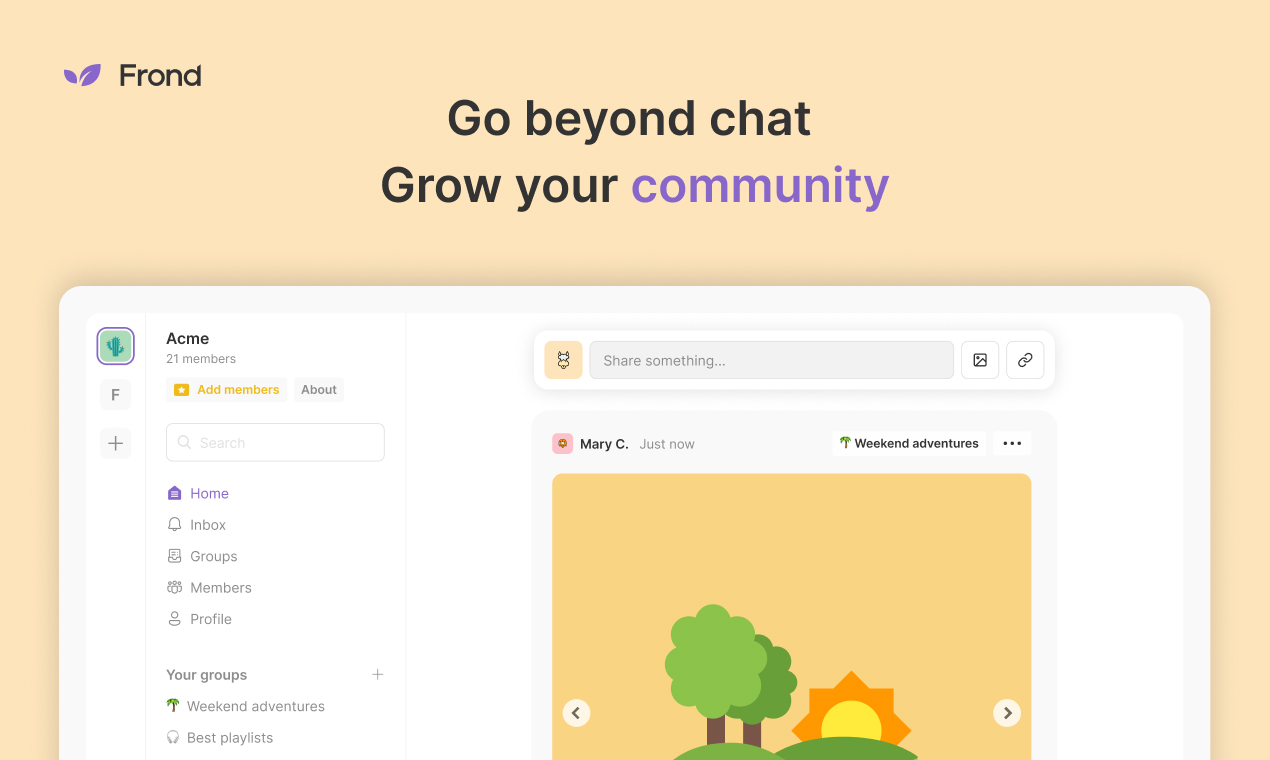 Introducing Frond
Feb 7, 2023
At Frond, we believe community is a superpower. No matter where you're going, a thriving community will get you there faster.
As a remote team from day one, community is at the center of everything we do. When we're not feeling connected as a team, we're less motivated, less trusting of each other, and our work suffers.
On a bad day, it can feel like a downward spiral. We tend to think of community as a cultural problem, but we believe our tools are fundamentally failing us. Our tools were designed with the assumption that our sense of connection, our sense of community, would come from elsewhere. We can't assume that anymore.
Our need for connection, the need for community, stretches far beyond remote work. We're living through a time of profound isolation, loneliness, and disconnection. It's such a crisis that the US Surgeon General has declared it a "loneliness epidemic." At the heart of this crisis lies our tools, our online spaces.
Social media promised to unite all of us in a global community. And yet, in practice, they emphasize our differences and drive us apart. That's because their business models depend on our attention rather than our sense of community.
And so many of our communities live in chat tools like Slack and Discord. They have promise! But as they grow, they often devolve into overwhelming, chaotic streams. Keeping up is too much work, and new members are greeted with the dreaded "wall of chat." And that's putting an artificial limit on our online communities.
If we believe community is a superpower, it shouldn't be so hard to build it online. We deserve better. That's why we're building Frond as a better way to build community online.
Chat gets messy; that's why Frond organizes conversations into threads, each starting with something richer than a chat: photos, videos, links, or just long-form writing. Better conversations, easier to follow.
Threads are organized into groups, which your community can shape as it grows. Whether it's cooking, French New Wave cinema, or cute Corgi photos, your groups will spark rich conversation. Love Corgi's but not into film? Your feed is easy to personalize so that you're only seeing what matters to you.
Add all this up and you've got a platform that can grow and scale alongside communities in ways chat can't.
This is just the beginning. We've got many more features planned to make it easier and easier for you to grow your community. From more extensive admin features, to desktop and mobile apps that will drive engagement, and beyond.
We're so excited to go on this journey with you. We know that with better tools, we'll have more energy for what really matters: our communities. We can't wait to see where you'll take us.
Today we're thrilled to announce our pre-seed round of $3.3M led by Cherry Ventures. We've been working with an incredible group of funds and angels; if you're curious there's more information in our press release.
If you want to stay in the loop, follow us on Twitter for the latest and greatest on Frond.
The Frond Team